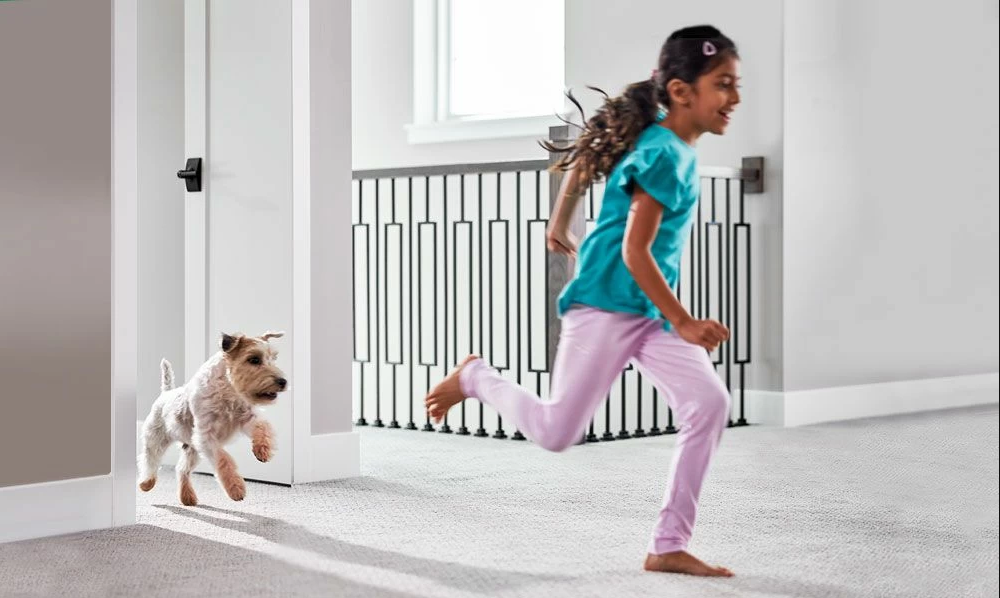 How to protect your floors when moving
MONDAY, MARCH 28, 2022
One of the most difficult challenges you can encounter during a move is avoiding damage to the flooring. You want to keep your new, gorgeous flooring safe, and the same applies to the old one. After all, if you intend to sell your current home, the floors must look impeccable. Any damage you cause, you need to rectify immediately. And that can prove to be costly. However, there are some simple tips and tricks that you can use to protect your floors when moving. To make it easier for you, we've put together a guide that you can use at any time. So let us see how you and your floors can have a safe experience while moving.
Use doormats
Using doormats might not seem like a big deal when it comes to keeping your floors safe during a move. However, a well-placed doormat may work wonders. If you or the movers walk in and out of the house on a rainy day, you will see just how beneficial it can be. For instance, you can scrub your feet against it and clear away the wet grass that has gathered on your shoes. On hardwood flooring, the grass may make your shoes slippery and unsafe. Also, all the mud and water will stay on the mat, making it easier to keep your wood floors clean. Just ensure that the doormats are meant for outdoor use and can dry quickly. Doormats made of bamboo or carpet are not very absorbent. Thus, they will not help in this situation.
Pack properly
One way to protect your floors when moving is to pack everything properly. Also, when moving bulky furniture, never drag it across the floor. It can cause damage to the surface or even create dents. However, proper preparation of your furniture can keep your flooring safe. For instance, you can cover the edges and feet of furniture pieces in furniture blankets. That will prevent the sharp edges from scratching surfaces. Also, use only high-quality plastic containers or cardboard boxes for packing. If you aren't sure, it's better to double-tape the bottoms of the boxes. In addition, don't overfill the boxes or containers. The harder they are to carry, the higher the chances of dropping them.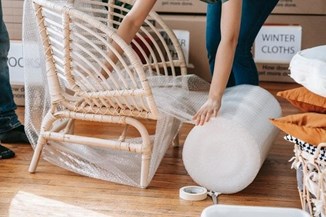 Caption: One of the best ways to protect your floors when moving is to pack everything properly.
Use carpets or rugs
If you want to protect your flooring, you can use carpets or rugs. Regardless of the type of flooring, creating a carpeted walkway through the house can be very handy. People know where to step, water is absorbed by the carpets, and the flooring remains scratch and dent-free. Not to mention that it's much easier and less expensive to clean your carpets using a carpet cleaning service than it is to repair broken floors. However, keep in mind that moving carpets can become dangerous, especially on smooth surfaces. Therefore, make sure that there are no wrinkles in the rugs and that you stick them to the floor. For instance, you can use rug grippers or rug tape to anchor rugs in place and keep them straight.
Use shoe booties
If you usually don't allow people to wear shoes inside the house, ask them to wear shoe booties on moving day. By themselves, they might not seem to be a great way to protect your floors when moving. However, used in combination with other floor protection, they are fantastic. They are inexpensive, disposable, and can prevent dust and dirt from being spread around the home on your shoes. In addition, because they are cheap, you can buy them in bulk and place them at every entrance to your home. You can then ask everyone that is helping you with the move to wear them when they enter your home.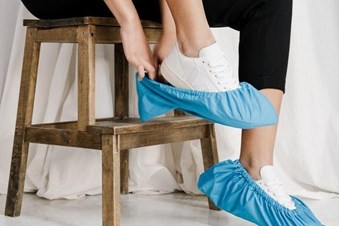 Caption: Wearing shoe booties can help you keep your floors clean during a move.
Get some furniture sliders
If you want to minimize friction between heavy furniture and your floors, use some furniture sliders. These are pieces of sturdy rubber-coated plastic that you can place under heavy items to move them around. You can use them on furniture or appliances, hardwood, vinyl, and tiled floors. Just place the sliders on the legs of the items, and remember to always push heavy objects instead of pulling them. That way, you avoid the risk of furniture and heavy objects falling on you. Also, pack the items you will move before you install the sliders. And if you want to pack in no time, look into some packing tips and gather all the packing materials early. Acquire cardboard boxes, bubble wrap, tape, and plastic bags. Besides these items, you should also get some markers and labels. They can help you stay organized and know which box belongs in which room.
Protect the carpets too
If you have carpeted floors, you can also protect them from being destroyed. There are several techniques to preserve carpets, but carpet film is the most effective. This protective film is plastic and auto-adhesive, and once you install it, it stays in place. Furthermore, it comes in big rolls from which you can cut pieces to the dimensions you need. Also, even if it sticks to the carpet, it won't damage it or leave sticky marks, and you can keep it for up to 45 days. While you have it mounted on your carpets, you won't have to worry about dust, grime, spills, or stains. Additionally, once you have completed the move, all you will need to do is refresh your flooring, and it will look as good as new.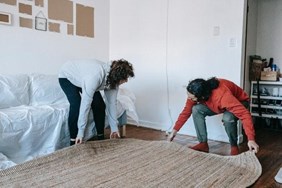 Caption: During a move, not only hardwood floors need attention. You should also protect your carpets.
Final words
If you want to protect your floors when moving, choose the best option possible. If you have hardwood, vinyl, or tile floors, use sliders and keep them on until your furniture finds its place in your new home. It will make it much easier to move it around and rearrange it as you please. If you have carpets, protect them with carpet film and wear shoe booties. That way, you will have double protection for your flooring. Moreover, you can place doormats on every entrance to keep most of the dirt and grime at the door. Finally, make sure that you pack your belongings properly so that you can keep them and your floors safe during the move.
BACK TO BLOGS